Eckstein Medical Research Building - Room 87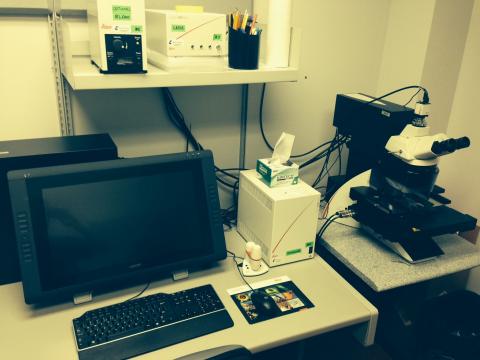 Instrument Description
Laser Microdissection (LMD) makes it possible to obtain homogeneous, ultra-pure samples from heterogeneous starting material. The researcher can selectively, routinely and quickly collect regions of interest. All kinds of tissues or cells, even living cells from cell culture can be isolated to obtain results that are relevant, reproducible, and specific.
Cells or tissues are placed on special slides. A curser or pen is traced along the area of interest on the viewing screen. At the touch of a button the UV laser is directed to cut the sample to cut along the selected path. Specimen collection is done by gravity, contact-free and contamination-free. The substage holds up to 8 individual receptacles.
The microscope is equipped with a fluorescent lamp and filters for dissecting fluorescently stained areas.
Instrument Specifications
 Laser

Maximum pulse energy:
Pulse frequency:
Wavelength:
Laser aperture control

Fluorescent Filters

DAPI:

Excitation:
Dichroic:
Emission:

FITC:

Excitation:
Dichroic:
Emission:
BP 640/40

Objective Lenses