Celebrating 45 Years of Advancing University of Iowa Research
At the University of Iowa's Central Microscopy Research Facility, we provide a wide variety of microscopy techniques for materials and biomedical investigators, an experienced staff, and support for the beginner and experienced investigator. As one of the leading university microscopy facilities in the nation, our microscopy team is ready to support your research program.
-------------------- CMRF News --------------------
CMRF Hosts Hitachi HT7820 TEM Demo in November
The CMRF and Hitachi High Technologies America, Inc. will be holding an on-site demonstration of the HT7820, a state-of-the-art 120kV Transmission Electron Microscope. The TEM will be available for demonstrations, viewing and collaborations November 4th through the 15th. A Hitachi applications specialist will be on-site to demonstrate the system, and to discuss applications and technical collaborations. Contact Bob Passeri to schedule time on this exciting new instrument. Bob's contact information, and other demo details can be found here.
New Paraffin Processor
The CMRF recently installed a Tissue-Tek® VIP® 6 AI Vacuum Infiltration Paraffin Processor. This state-of-the-art system provides reproducible, high-quality processing of histological samples into paraffin.  For more information, contact Chantal at chantal-allamargot@uiowa.edu.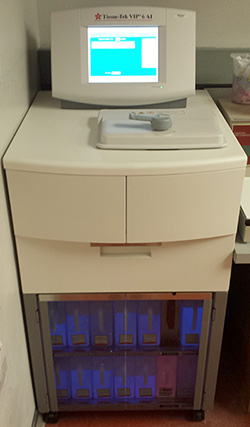 FRAP and FRET Wizard Installed on Leica SP8 Confocal/STED
The CMRF recently upgraded the Leica SP8 Confocal/STED microscope with FRAP and FRET software. The new modules use a "Wizard" format to guide you through configuration and data collection. FRAP and FRET software guides can be found on the SP8 website.
 High-end Workstation installed for Imaris 3D and 4D Real-time Interactive Visualization and Analysis Software.
The CMRF recently installed a custom-built workstation to run its copy of Bitplane's Imaris 3D and 4D Real-time Interactive Visualization and Analysis Software. Specifications of this high-end workstation include:
128GB DDR4 RAM
8-core Intel i7 Skylake CPU
8GB DDR5 video display card with over 2,000 CUDA processing cores
All solid state hard drives
With just a few steps, Imaris delivers quantitative volumetric and motion-analysis results. Custom Imaris modules are available for neuroscience, (e.g. dendrite and spine analysis,) and co-localization studies. Other available features include:
Imaris Measurement Pro: Shape, size and intensity-based quantification.
Imaris Track: Imaging, tracking and motion analysis of live cells and moving objects in 2D and 3D.
Imaris Filament Tracer: Automatic detection of neurons (dendritic trees, axons and spines,) microtubules, and other filament-like structures in 2D, 3D and 4D.
Imaris Coloc: Quantify and document co-distribution of multiple stained biological components.
Imaris Cell: Quantitatively examine micro relationships that exist within and between cells.
Imaris Vantage: Compare and contrast experimental groups by visualizing image data in five dimensions as uni- or multi-variate scatterplots.
High-Resolution Iridium Sputter Coater Available!
The CMRF has purchased a Quorum Technologies 150T ES Iridium sputter coater to support high-resolution SEM imaging. It is capable of producing coatings that are much thinner than standard Au/Pd sputter coating, which can result in higher-resolution images. The QT 150T ES is the ideal coating system for routine imaging above 50,000x. Contact CMRF staff if you are interested in using this instrument.
Office of the Vice President for Research  article on the 2016 Art in Science Contest
CMRF Staff are available  Monday through Friday 8am-5pm and will be happy to assist you! Call 335-8142 or email Randy Nessler for more information.