Celebrating 45 Years of Advancing University of Iowa Research
At the University of Iowa's Central Microscopy Research Facility, we provide a wide variety of microscopy techniques for biomedical investigators, an experienced staff, and support for the beginner and experienced investigator. As one of the leading university microscopy facilities in the nation, our microscopy team is ready to support your research program.
-------------------- CMRF News --------------------
 Important Notice:
Due to COVID restrictions the CMRF staff is coordinating all resource reservations. Please email our staff to schedule a visit to our facility.
-------------------- Other News --------------------
Calpendo Resource Reservation App
The CMRF is transitioning to Calpendo, an integrated scheduling and financial application that coordinates resource reservation, usage and invoicing.
All CMRF investigators must create an account by going to https://uiowa-cmrf.calpendo.com/, clicking on the "Register new User" button then the "HawkID login" button. You must fill out every field in your User Profile.
When Calpendo is fully implemented all facility users will need to create a Project. When the Create Project function is ready to use it will be announced here. Note: One field in the Create Project form will require the accurate entry of the project's MFK number. Details of the 42-digit MFK format can be found here.
CMRF resource usage is based on the reservation time or instrument usage time, whichever is longer with a minimum reservation time of 30 minutes. 
The CMRF is excited to be able to again support your important research!
Unfortunately, due to the current situation we cannot operate the facility as before. There will be a ramp up period where our operations will still be limited.
No general access will be granted, and the facility doors will remain locked.
The facility will be accessible to investigators by appointment only. This includes the sale of fluorescent antibodies and any other reagent. Please email you CMRF staff contact 48 hours in advance to schedule an appointment.
Due to Covid-related issues the CMRF main office phone line is not always monitored at this time, and the sharing of phones is discouraged.  Therefore, the preferred method of contact for facility staff is email. 
All instrument reservations will be made by CMRF staff to ensure proper distancing is maintained. Due to limited facility access, please restrict reservations to only the amount of time needed.  Billing will be according to reservation time or actual usage, whichever is largest.
Please email your CMRF staff contact to discuss how best to resume your research. They will also instruct you on required instrument decontamination procedures.
If you have scheduled a visit the CMRF, you must wear a face shield and a face mask to the facility. The operation of microscopes and other equipment will likely require you to take off your face shield to operate them properly. In this situation you must wear a face mask.
If working with chemicals or using a microtome you must bring a lab coat.
If you do not have proper PPE you will not be allowed to enter the lab.
Investigators with appointments will be met at the south hallway door by a staff member. Please ring the doorbell and maintain social distancing until a CMRF staff member opens the door for you. Investigators will be billed by reservation length. Please be punctual.
Please exit the facility through the north hallway door.
If you have any questions or concerns, please contact Randy Nessler at randy-nessler@uiowa.edu.
Thank you, and stay safe!
Your CMRF Staff
Leica SP8 Confocal-STED Super-resolution System Upgraded
775 nm Depletion Laser Added
The CMRF's Leica Stimulated Emission Depletion (STED) super-resolution imaging system, based on an SP8 laser scanning confocal microscope, has recently been upgraded. STED delivers resolution beyond the theoretical limit of light, and fills the resolution gap between standard confocal and electron microscopy. The system now features a 775 nm pulsed depletion laser, in addition to the existing 660 nm depletion laser. This addition will simplify multiple label STED experiments, increase resolution (<40 nm), and reduce photobleaching. The STED system also now features a 93x glycerol lens that will facilitate imaging at greater depth. Follow this link for more information on the system, and sample preparation guides.
Below is an example of the dramatic increase in resolution provided by STED. The sample is 23 nm beads labeled with ATTO647N (top two images) and Alexa 594. Confocal images on the left, 775 nm STED on the right. Note the typical diffraction-limited 200 nm spots in the confocal images, and the dramatic resolution improvement in the STED images.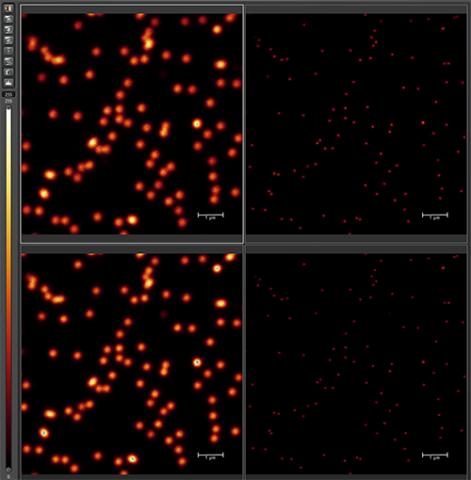 FRAP and FRET Wizard Installed on Leica SP8 Confocal/STED
Also, the CMRF has upgraded the Leica SP8 Confocal/STED microscope with FRAP and FRET software. The new modules use a "Wizard" format to guide you through configuration and data collection. FRAP and FRET software guides can be found on the SP8 website.
 High-end Workstation for Huygen's Pro Deconvolution and Imaris 3D and 4D Real-time Interactive Visualization and Analysis Software.
To process, analyze and visualize STED and confocal data sets, the CMRF maintains current copies of SVI's Huygen's Pro and Oxford's Imaris. Huygen's is the gold standard deconvolution app, increasing resolution and removing noise from confocal and STED z-stacks. Imaris is the world's leading 3D-4D image visualization and analysis package, providing sophisticated, easy-to-use volume, distance and tracking modules. Both apps are installed on a custom-built high-end PC workstation.
Huygen's Pro features easy-to-use wizards that guide the user through the deconvolution process. Background flare is removed, and resolution can be be improved by 2x.
With just a few steps, Imaris delivers quantitative volumetric and motion-analysis results. Custom Imaris modules are available for neuroscience, (e.g. dendrite and spine analysis,) and co-localization studies. Other available features include:
Imaris Measurement Pro: Shape, size and intensity-based quantification.
Imaris Track: Imaging, tracking and motion analysis of live cells and moving objects in 2D and 3D.
Imaris Filament Tracer: Automatic detection of neurons (dendritic trees, axons and spines,) microtubules, and other filament-like structures in 2D, 3D and 4D.
Imaris Coloc: Quantify and document co-distribution of multiple stained biological components.
Imaris Cell: Quantitatively examine micro relationships that exist within and between cells.
Imaris Vantage: Compare and contrast experimental groups by visualizing image data in five dimensions as uni- or multi-variate scatterplots.
New Paraffin Processor
The CMRF recently installed a Tissue-Tek® VIP® 6 AI Vacuum Infiltration Paraffin Processor. This state-of-the-art system provides reproducible, high-quality processing of histological samples into paraffin.  For more information, contact Chantal at chantal-allamargot@uiowa.edu.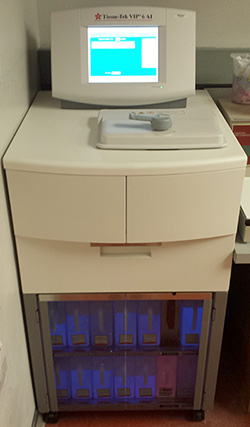 High-Resolution Iridium Sputter Coater Available!
The CMRF has purchased a Quorum Technologies 150T ES Iridium sputter coater to support high-resolution SEM imaging. It is capable of producing coatings that are much thinner than standard Au/Pd sputter coating, which can result in higher-resolution images. The QT 150T ES is the ideal coating system for routine imaging above 50,000x. Contact CMRF staff if you are interested in using this instrument.
Office of the Vice President for Research  article on the 2016 Art in Science Contest
CMRF Staff are available  Monday through Friday 8am-5pm and will be happy to assist you! Call 335-8142 or email Randy Nessler for more information.